Investment hubs: Warehousing in Bangalore
ONIX Advisors: "Real Estate is all about location, location and location". We have started this series -
'investment hubs' - to share our insights on which micro-markets (areas) are/would be the best
investment destinations for a particular type of asset class (residential, office, retail, warehousing and
industrial).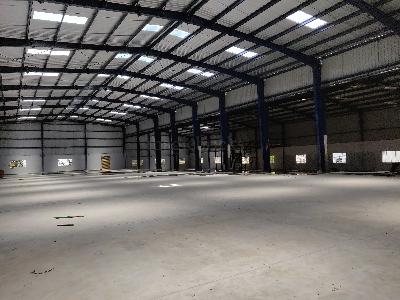 Readers may note that this is not an exhaustive list of investment hubs but a representative one, and
predominantly focused on metropolitan cities. In this article, we talk about warehousing hubs in
Bangalore:
Hoskote-Soukya-Malur-Siddalghatta-Chintamani-Narsapura

, around the Old Madras Road,

is one of the most prominent warehousing belts in the city with warehousing rentals varying

between INR 17 and INR 25/ sq ft/month, depending on the grade and distance from Soukya

Road which provides access into the major commercial and residential hub of Whitefield.

Traditionally dominated by local landlords, the micro-market has witnessed entry of all major

warehousing infra developers such as GWS, All Cargo (Blackstone), Embassy Industrial among

others. The proposed Bangalore-Chennai expressway, once completed, is expected to provide a

fillip to the warehousing and industrial activities in this area.

Nelamangala-TBegur-Dobaspete,

located on the Bangalore-Pune-Mumbai highway, is another

key warehousing belt that provides entry into the city through Electronic City (in in the South) and

Yeshwanthpur (in the Northwest). Still dominated by local players, the micro-market houses an

Indospace Industrial Park, albeit a smaller one. The area is plagued with several land acquisition

issues, especially related to zoning (land use), and the rentals hover between INR 16 and INR 21

per sq ft per month.
Anekal-Attibele-Jigani-Hosur belt,

located strategically on the Bangalore Chennai expressway,

this micro-market is increasingly gaining prominence. Located next to Bangalore, Hosur is an

prominent industrial town of Tamil Nadu. Hosur road stretches from the city, enters Anekal/

Attibele (Bangalore city limits) and stretches up to Central Bangalore (Shoolay Circle).The

e-commerce giant, Amazon, has its largest operational and under-construction fulfilment center

of Bangalore in this belt. Rentals in this belt have touched INR 22/sq ft/month for Grade A (top

specification) warehouses. Embassy Industrial parks, among others, is coming up with new

warehousing parks in this belt.

Devanahalli-Doddaballapura-Chikkaballapur

in close proximity of Bangalore International

Airport (BIAL) and near to the Bangalore Hyderabad highway is an emerging warehousing

micro-market. Especially, after KIA built its mega-manufacturing complex in Ananthapur, about

80 Kms away from this micro-market, and a new road was built connecting BIAL to Whitefield,

significant number of local and pan-India warehousing infra developers are evaluating investments

in this area.
To get more details on warehousing belts across Bangalore, please reach us on +91-9108447825 or
+91-9108447829 - ONIX Advisors
#warehouse #warehousing #ONIXAdvisors #bangalore #Nelmangala #Hoskote #attibelle #Logistics
#LogisticsPark #lease #rent #buy #sale #asset #shed #ColdChain #coldwarehouse

Investment Group:
Indian Real Estate - WhatsApp Group
NRI Investment - WhatsApp Group
Indian Real Estate Investment - Telegram Group